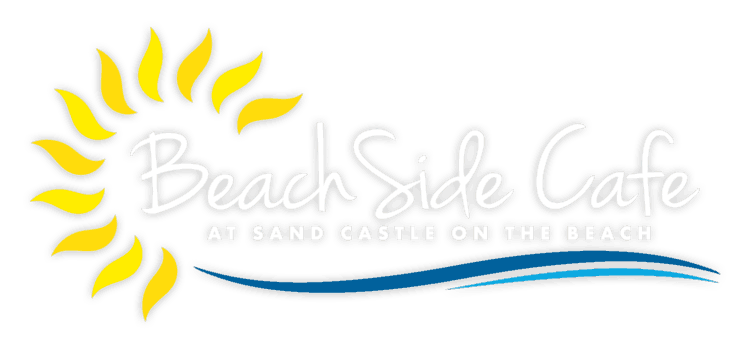 Indulge yourself in a casual dining experience that's as colorful and flavorful as the island itself

There's no other way to brunch like this! Our beautiful, open-air, seaside terrace is the perfect setting for the brunch you deserve. Unwind with a fresh mimosa in hand, the shimmering ocean just steps away and a table surrounded by your friends.

Celebrate life, love and good friends while enjoying the casual and breezy dining experience at the Beach Side Café. Our menu ranges from traditional favorites to local island specialties that are sure to please.

Celebrate life, love and good friends while enjoying the casual and breezy dining experience at the Beach Side Café. Our menu ranges from traditional favorites to local island specialties that are sure to please.

Relax at the bar and watch the sunset with one of our specialty artisanal cocktails. We carry a full bar featuring an extensive selection of liquor, local draft beer, wines and local juices. For those looking for something adventurous without the buzz- be sure to check out one of our signature mocktails.

Adjoining the café, is St. Croix's biggest little secret, the premier boutique hotel, Sand Castle on the Beach.
We'd like to welcome you to enjoy all that we have to offer. Stay for a meal or the whole week- you'll find that we have comfortable and well-appointed accommodations for whatever your needs may be.
Renata

The grilled salmon was cooked to perfection (moist, flavor, texture) the best salmon I have even eaten at a restaurant. You must try the bread pudding it was right temperature and the warm savory sauce that accompanied the dessert is what made it oh so great in your mouth. You will not regret eating here and the sunset view was a dream. -

Lisa

5 stars for doing what they do well.. super kind and efficient service from Jamalya. The tuna w wasabi and bang bang shrimp were great appetizers. Fish tacos were fresh and fabulous, crab blt sandwiches and a mahi sandwich rounded out our lunch. The view doesn't quit.. it is quintessential island eye candy. We had delicious rum drinks too. Next time we're ordering the fajitas which sizzled by us a couple of times. -

Lanet

I really loved this place. It was the best place to have dinner in Frederiksted. The staff were very friendly. I was quite touched that the hostess, Rita, remembered us as return visitors. The owners were also very nice and often came by each table to greet guests. The food was excellent. I would highly recommend the seafood pasta, but even the burgers are great. The view is amazing, and the eating area is covered so you won't get wet if it rains. The restaurant is very nice with great lighting, tablecloths, etc., so it works well for a date night . Casual dress is fine though. Oh yes, don't forget to save room for dessert. The coconut rum cake is delightful. We were in St. Croix for a week and ate here three times. Good every time. -

Jessica

Delicious, fresh food served by a warm and friendly staff. We stayed at Sand Castle on The Beach where Beach Side Cafe is located. We were well taken care of all week and our tummies were filled after hours spent swimming. The view is beautiful to book. Some of my favorites, the burger, the bread basket (some of the best focaccia I've had) the mussels. Also had a few of the pasta specials through the week which were really tasty. Save room for the dessert, and enjoy the white chocolate bread pudding, it's so custard-y and delicious even non-bread pudding people (like my husband) was way into it. Thanks again for the delicious food and wonderful people to spend a meal with! -

Erica

Excellent food and amazing drinks! Ate here several times while staying at Sandcastle on the Beach, the adjoining hotel. Local Mahi and organic fried tomato with goat cheese and arugula specials were standouts! And you
MUST try a Limin' on de Coconut from Simone at the bar! Great place to enjoy dinner and the sunset, ask about dining on the beach! -

Matthew

An absolutely wonderful lunch! I had the shrimp and grits, and it was the best rendition of that dish I have ever had. The culture of the café and of the hotel was warm and inviting. Staff was friendly and helpful. The beach was beautiful, and we were able to snorkel right there. I took a little treasure hunt and was able to find all different colors of sea glass. I'd highly recommend this place! -

Andy

The staff at the restaurant were so great. I found myself going here not just for the convenience of it being at the hotel. But, to get to talk and laugh with the staff and the other patrons. OMG and the sunset views were completely out of this world. The food was good. The only reason for the four stars here is the schedule. It was a little wonky. Some evenings they would have the full menu and others they would just have a "The Grill" menu. I would have liked more consistency with what they were serving. With that being said, go have fun and enjoy a Painkiller as you watch the sun do it's thing! You won't regret it! -

Shera

This cafe right on the beach is part of the Hotel just south of Fredriksted.
They are a casual place but add to the ambiance with white table cloths and attentive service.
A large group of us (8 total) went for brunch and everyone seemed happy with what they got. Entrees ranged from Banana Rum French Toast, and a Salmon and Tomato eggs Benedict to a couple of Monte Cristo sandwiches.
The main complaint across the board was that the food was not HOT when served. and a few drinking coffee said the same. My bloody mary was insanely strong - but they accommodated when I asked for more Tomato juice. -

Alix

Beautiful restaurant, amazing food. We recently enjoyed Sunday brunch at beachside cafe and went back for lunch and dinner. Kimchi Tacos are to die for! Huevos rancheros and banana rum french toast at brunch were great. After several meals here, we didnt order anything that we didn't like. Prices seemed reasonable for quality of food. The new chef Brandon came out and was friendly and passionate about his new menu. I would recommend to sit in the bar area with Scotty - a great bartender. Order a painkiller for dessert (one is plenty). Or sit close to the ocean because Beach Side has one of the best views we've found on the island. -

Steve

In all of our time in St Croix we didn't have a 'miss' for any of our meals, but our dinner at the Beach Side Cafe was very good.

We got there around 6pm for our reservation and were seated immediately. My first thought was 'this place isn't as fancy as I expected', forgetting I was in St Croix and most places are casual dress.

Before I get to the food I have to say the staff and service were great. We actually had a monsoon blow through so a bunch of people at the edges of the outdoor seating needed to be moved. No one complained and even though a few people got wet they took it in stride.

We started off with some drinks and appetizers.
Wifey started off with a Sailee Dae - kind of like a dark and stormy and I had the Carpashio- like a pistachio liquor coconut rum milkshake...I'm sure it was calorie free, but it was honestly one of the best drinks I've ever tasted. Kids had the Sunny Daze mocktails which they loved. Hey also give you some Focaccia bread with a balsamic reduction...SOOO good.

For our appetizers we had Bang bang shrimp - similar to Bonefish, but oh so much better. We also tried the Ahi tuna, seared, with a pickled slaw and mango compote with cinnamon and a spicy rub that tastes like cayenne. This was also AMAZING, but if you're averse to spicy food I'd try something else.

For our entrees my daughter had a Caesar salad and a ribeye-steak, which she said was delicious but too fatty. My wife and I both had the Local fish duo- fresh tuna and Mahi with chimmichurri and roasted Brussels, roasted tomatoes and fennel over jasmine rice. This was really delicious-I mean a home run. I had my tuna seared and the grilled Mahi was fantastic. The boy had the Seared salmon and it included roasted blue potatoes and an asparagus slaw. To quote the boy: "this is the greatest salmon I've ever eaten!"

For dessert it was Mango crisp a la mode for me, grilled mango with cinnamon and ice cream for Wifey , and cappuccino brownie a la mode for the kids.

One more place I'm definitely going to again if I get back to St Croix. -

Tony

We stayed next door at Cottages by the sea and went to eat here our first dinner in st Croix. What a wonderful place to eat and relax. Everyone was amazing and the service was impeccable! The owners were so personable and we felt like we've known them for years! I highly recommend Beachside Cafe while your in St. Croix. -

Bill

Since moving to the West end of the island, Beach Side has become our 'go to' place. Have tried almost everything on the menu now - and most of it is delicious (some is just personal preference) Well prepared - staff has it's moments, but for the most part, top notch (Especially Anna) - The view cannot be be beat, especially at sun set.... Owners are warm and engaging and always checking on their guests. Even if you have to drive "all the way" from mid-island..... you definitely need to give Beach Side a try~! ( and you have "got" to try the Bang Bang shrimp~!) -

James

For St Croix, this is a 5-star restaurant ! We had a beachside table on the deck, with, can you believe, a tablecloth - OMG, in St Croix. Sunset was breathtaking and temperature/breeze moderate compared to other island restaurants in March. Our waitress was friendly and attentive. Bread and coconut rum cake - out of this world. Seafood entries really good. When stars came out, so vivid. Can you believe we had a rare sighting of Mercury right from our table? On our next trip we will come here first and last nights. -

Calvin

Great experience and atmosphere especially at sunset. Food was excellent. It was warm when it arrived to the table. Good service. Our waitress got our food, drinks and bill to us in a timely fashion. The staff there had awesome manners and gave salutations as you entered and left. On slow days at sunset they may give you the option to choose your table. Parking was accessible, safe, and convenient. The food was delicious, really fresh. We had the Bang Bang shrimp, Mac'n Cheese with Smoked Brisket, and the seafood pasta. All of which were devoured on spot. -

Roxana

Loved this place! Best hotel on the Island! Best views! Great atmosphere! Nice and cozy for either a wild couple having fun! Or for a family to enjoy! Good for all ages! It's nice to have a restaurant next door that has delicious food! Staff very friendly! I would recommend it if u don't know anyone on the island or looking for total you time! -

Ann

Just what we were looking for!! The Beach Side Cafe at the Sand Castle Resort. DELICIOUS food! We were just off the cruise ship and bought a day pass at the hotel - Sand Castle Resort. Verna was so pleasant and welcoming. We paid $25 for the day pass ($25 for two people!) It includes two lounges, one umbrella (very necessary in the hot Caribbean sun), towels and two (very good) rum punch drinks. There is a shuttle from the cruise port (six dollars per person round-trip). Keisha set us up on the beach and offered to serve us lunch on the beach or in the restaurant. Our lunch was delicious, as were the drinks. Keisha is an attentive and wonderful waitress!
Verna showed us a room and we hope to fly in and stay here in the future. It is a very quiet, relaxing respite from the world!! We love it! -

Kimberly

The food is delicious! We were there in April 2018 and goodness, they have stepped up their game. Thanksgiving dinner was amazing! Brunch was amazing! You want an omelet with fillings? This is your place. The bbq on Tuesday and Wednesday is just as good as the rest. A variety of drinks. But, most importantly, is Chris and Ted. They are so welcoming and caring. Make sure to introduce yourself because they are just wonderful. -

Katherine

Great place! We recently stayed at Cottages (next door to Beachside) and ate at Beachside multiple times during the week. We could not have asked for a better experience. The view is exceptional, right on the beach. The servers & bartenders are friendly, prompt, and wonderfully welcoming--special shout out to the new owners Ted & Chris who really went out of their way to engage us, make sure we were happy and well served. Everything we ordered was very good or excellent--when we arrived, after a *looong* day of travel that started at 3:30 am, all I wanted was a beer and a cheeseburger; for a simple thing, I've had places really miss on burgers, but theirs was perfect. Over the week we also had the seafood pasta, the seafood boil, Caesar salads, kale salad, mussels (excellent), tuna, and I know I'm forgetting some things. We had a wide range of drinks (and you can get them in a go cup so you can go sit on the sand!) and just could not have been happier with our experience. We wish Ted and Chris all the best with their new endeavor and hope to go back and see them soon! -

Ryan

The food here was delicious (I've only been here once) great flavor, cooked to order. The scenery here is great, all seats have a great view of the beach which is only steps away or a swimming pool at the connecting resort. The service is friendly and helpful, they couldve been a little more attentive but alright. A great family location its secure, clean, quite, welcoming.
I will recommend this cafe to others and go back there again myself. I would say that the prices are a little on the higher side but I'm alright with that because I could tell they had fresh ingredients and they truly wanted to put a good dish together. -

Jim

Wife and I came here hoping to catch the sunset at dinner, but a full-on rainstorm put a damper on that. With rain blowing in sideways and the place nearly empty, we were seated in the gazebo -- which, despite the storm, was really nice. Romantic, actually.

All of the staff here was very friendly, especially our waitress, Julie, and the manager, Chris. Both seemed genuinely interested in making our experience as memorable as possible.

Wife had the Bang Bang shrimp, which were mind-blowingly good, and she continues to talk about, two weeks later. I had the chicken fajitas, which were quite good.

I usually like to visit a place at least twice before giving them a five-star rating, but I'm making an exception for the Beach Side Cafe. Check it out for yourself... maybe there will even be a rainstorm blowing through! -

We're always glad to accommodate guests on a walk-up basis, but making a reservation is encouraged for weekends, events and holidays.
Lunch reservations can be made for seatings between 11:00am and 2:45pm
Dinner reservations can be made for seatings between 4:00pm and 8:00pm
Weekend brunch reservations can be made for seatings between 10:00am and 2:30pm
Sign up for the Beach Side Café email list to get the latest specials, events and news.