We've been nominated for the Gay Travel awards
We've been nominated by the readers of GayTravel.com to be a part of the Fifth Annual Gay Travel Awards! According to GayTravel.com…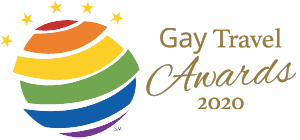 Welcome to the Fifth Annual Gay Travel Awards, presented by GayTravel.com. Voting is now open, so show your love for this year's official nominees and cast your votes! You could be eligible to win a two-night stay at an Andrew Christian residence in Puerto Vallarta by voting. Plus, 50 voters will be eligible to win an Andrew Christian gift bag (please see official rules on the voting page).
Gay Travel Awards Mission
The mission of the Gay Travel Awards is to recognize and promote select destinations and travel-related companies around the globe. These distinguished organizations lead by example and help inspire other companies and brands around the world to follow their spirit of inclusiveness and constantly improve their amenities, safety, and service levels. Gay Travel Influencers have been added for the first time, too, and the new category is an important and noteworthy enhancement.
GayTravel Chief Visionary Officer Steve Rohrlick said: "This year has been like no other. With the pandemic raging across the globe, many travelers are restricted from traveling or are waiting for a safer time to venture out. With that said, those safer times are just around the corner. The Gay Travel Awards give us all a moment to focus on the industry's best as a prologue to us all getting back out there."
Sign up for the Sand Castle on the Beach email list to get the latest deals, events and news.